Overview:

9 days Morocco private luxury tour from Marrakech to Casablanca

This 9 days Morocco private luxury tour from Marrakech to Casablanca, will take you on a fantastic itinerary full of attractive places. You should not miss while visiting Morocco Discover the southern of Morocco.

And its authenticity out of reach cities and Berber Villages that embody off-roading trails solely accessible by 4×4. You'll visit cave dwellers and meet nomads of Desert. you'll visit several lovely valleys together with Roses. One thousand Kasbahs Imperial city tours around Morocco.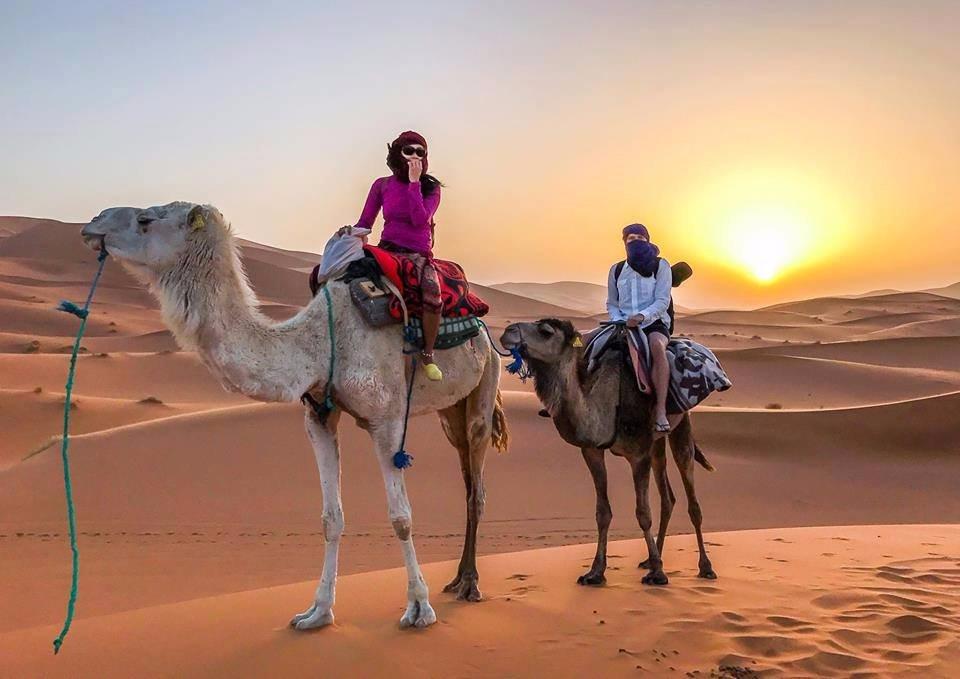 Day 1: Arrival to Menara airport
Upon arrival at Menara Airport in Marrakesh, we will welcome you and transfer you to the hotel or Riad where you can relax and will spend the night.
Day2: Marrakech guided visit with a tour guide
Morning time , we will explore the Red City. with  a guided tour that will take us to explore the main landmarks of the city; places. That have a huge historical and cultural value, The list includes Bahia Palace, the Saadian Tombs, the Koranic school of Ben Youssef.
Along with the Medina and the Souks. After lunch in a traditional restaurant at the famous Jamaa Lafna Square, we can go visit the Koutoubia Mosque and the fascinating gardens of Majorelle that have an amazing collection of plants from all over the world. At the end of the day, overnight at a beautifull riad.
Day3: Marrakech- high atlas- Aitbenhaddou- Ouarzazate
After breakfast , we will depart from the Red City Marrakech traveling through the amazing landscapes of Tizi n'Tichka and many Berber villages where people live a very simple lifestyle. We will stop at the UNESCO world heritage site Ait Ben Haddou, which is also a famous filming site that many famous Hollywood movies shot their scenes at. Visit of the cinema studios and Taourirt kasbah, overnight in Ouarzazate.
Day 4: Ouarzazate- Dades valley- Todra gorge- Alnif- Rissani- Merzouga
Early morning after your breakfast, we continue our 9 days tour toward Erg chebbi dunes of Merzouga. We'll pass through Kelaat megouna and Dades valley, we'll have a walking tour into the Todra gorges " a famous destination for the rock climbing". Next to Alnif where we'll have lunch in an authentic local restaurant, passing by Rissani to explore its anient weekly market. And then we'll get to your hotel in Merzouga desert where you'll spend the night at.  Enjoy the sunset on dunes and night in the hotel.
Day 5 : Merzouga offraod adventure  and camel trek
We'll start our journey with a pick up from your hotel at 10 am, and head to a nomad family to have a cup of team with them and discover their way of life. Next to the Mifis mines where you'll find a different types of Minerales,( Vandinits, Malakits and much more). The lunch  will be in a traditional berber restaurant in Khamlia town, possibility to visit a musical band of Gnawa, (up to you ).
We'll go back to your hotel for rest later on you'll start your camel ride in the dunes of the sahara , by enjoying a magical sunset with your berber expert camel guide. You'll get to your camp evening time to have a cup of tea then to your private tent where you'll spend the night. Enjoy a berber drumming music around the camp fire after dinner time. night in the desert camp
Day 6: Merzouga-Ziz valley- Midelt-Azrou-Ifrane- Fes
We'll wake you up early to enjoy the panoramic view of the sunset, Then have our tasty Sahara breakfast. Then get ready to start our journey towards City of Fes. As we pass through different towns and terrains, the landscape begins to notably change into a rocky scrubland. Geographically indicating the beginning of the desert, On the way to Fes the Imperial, we will encounter the and the Ouled (river) Ziz and the Ziz valley that punctuate the landscape with their brilliant green palms.
With the golden prehistoric valley walls towering above you, and the dusty ancient kashbah's & ksar dotting the palm groves.  Ziz lends a feel of what it might be like to mix the worlds of Jurassic Park and Indiana Jones, making it the perfect place.
To put on your explorer's hat and go on an adventure, We will go through the Middle Atlas Mountains. As we depart the desert region to Fes, We will drive through the green cedar forests of Azrou. And stop to hand feed the monkeys, as we continue via Ifrane, the 'Switzerland of Morocco'. The Marvellous Cold City, to finally arrive in Fes in the early evening.
Day7: Fes guided tour with a tour guide
Our jouney will be starting witha pick up from your riad in Fes by your local guide from the same city. We will be visiting The survival Castle, The beaten heart of Morocco. The oldest City and  start our exploring day with a tasty Fassi Breakfast, After that, we will be heading to Fes. The imperial. In order to see the marvellous mansion, The Famous Royal Palace, where you can see the giant doors, Made of copper, Marble and small pieces of tiles.
We will also to take visit the Jewish Quarter AL MALLAH, a huge square that dates back to the 17th century. We would be also seeing some amazing historical places. such us: Fez Tannery, Attarrin, Nejjarrin, Seffarrin, Al Batha Museum, Arms Museum, Then get to see the outstanding fountains. Such as the Nejjarine Fountain, the Medersas (Koranic schools) founded as early as the 13th century.
The Batha Palace is now a museum of arts and Moroccan traditions. , you will get to see the Chouwara tanneries to see how real leather is being made and coloured , to finally go towards The Old Medina. Which is considered as the oldest area in Morocco , as it contains many shops, ancient Handcraft and many old buildings which go back to the 14th century, you will certainly lose your self inside of the narrow streets. Filled with the most simple and traditional art pieces with a glimpse of our ancestors way of life.
Day8: Fes- Chefchaouen
In the morning time around 9 am, your driver will pick you up to continue and other journey toward the beautifull blue pearl of Morocco. Passing by the gorgeous Rif mountains, we'll have lucnh in somewhere on the way. Our arrival to Chefchaouen will be around 2pm, Drop you off in your hotel. You will have the opportunity to visit this amazing small city by your own. The town is very safe and locals are friendly. overnight in Chefchaouen.
Day 9: Chefchaouen – Rabat – Casablanca
In the morning time after breakfast, your driver from gorgeous Morocco tours company will pick you up from the hotel. Then head to Casablanca through Rabat ( capital of Morocco), We'll get to Casablanca afternoon time and drop you off in your hotel. ( visit of the mosque hassan , overnight in Casablanca).
Day 10 : airport transfer
Transfer to the airport in Casablanca , Mohamed V airport at the right time of your deparature. And  end of our 9 days Morocco private luxury tour from Marrakech to Casablanca.
Booking details :

9 days Morocco private luxury tour from Marrakech to Casablanca
9 days Tour in Morocco
Starting location: Marrakech
Ending location: Casablanca
Deparature :   according arrival
Confirmation: You'll Get it at booking time
Included:

9 days Morocco private luxury tour from Marrakech to Casablanca
Private A/C Vans or 4×4 vehicles
Fuel
English speaking driver
Pick up & Drop off
Typical hotels, Riads
Camel ride
Man (guide of the camel caravan)
Desert camp
Equipped private tent
All breakfasts
All Dinners ( in desert )
Vegetarian meal option available before booking
Enough time to explore the sites
Local guides in Marrakech and Fes
Excluded: 
Midday meals
Entrance fee to monuments
Drinks
Dinner in Marrakech,Fes,Chefchaouen and Casablanca
Tipping guides and drivers
Note ! : In case our 9 days Morocco private luxury tour from Marrakech to Casablanca doesn't suit your needs. Please get in touch with us to  provide you a different itinerary according to your flights arrival and deparatures. We can arrange also sevaral  Days grand tours  in Morocco from Casablanca. Check our other options we are in Partenership with Around Morocco Trips company.